Nigerian Doctors who gathered to participate in an interview for medical jobs in Saudi Arabia complained that they were chased away by Nigerian State Security Services, SSS or Department of State Services, DSS, who stormed the venue and started shooting on air.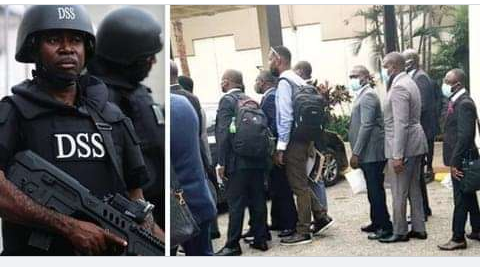 The report claimed that the incident took place on August 26, 2021, at Sheraton Hotel Abuja where the ongoing selections of Nigerian Doctors that would migrate to the Asia Continent to practice their profession were to hold.
It was gathered that some doctors have arrived at the venue as earlier as 5:30 am and more were on their way when DSS showed up and started shooting after the Doctors were warned to desert the place or get shot.
It was on that warning coupled with the sounds of guns and the fly of bullets targeted upwards in the space made the Doctors pack their bags and baggage and everybody was on the run.
However, it was reported that one of the Doctor's received bullet injury and those who were on their way coming, after hearing the news, they made a u-turn to their respective homes.
It was also reported that the wounded Doctor was rushed to the hospital for immediate treatment.
Reacting to the allegation, the DSS has denied dispersing the doctors from participating in the said interview.
The statement by its public relations officer, Peter Afunaya reads, "The attention of DSS has once again been drawn to a falsehood being circulated in the media that it dispersed doctors attending Saudi Arabia organized job interview at the Sheraton Hotel, Abuja, yesterday 26th August 2021".
"Though this is illogical and does not add up, sections of the media that reported it, did not care to verify the news before going to the print. No further evidence was also adduced to prove that DSS carried out such an operation at the hotel. It is obvious that the news is only designed to embarrass the organization".
"Journalists and other media practitioners are enjoined to crosscheck their facts and ensure that they do not use their pLatform to mislead the public or undermine national security".
A similar interview has been organized in Lagos State, where it was reported that more than 500 Nigerian Doctors showed up for the interview.
Content created and supplied by: Nnam (via Opera News )