Ginger is commonly grown in Northern Nigeria and consumed so well in the country but a lot of people do not know its health benefits.
A rhizome plant of the Zingiberaceae family. Having a cup of ginger tea may have proven health benefits.
Ginger has an age-long history of use in traditional medicine. It can be used in making stews, sauces, porridges, or as tea made with fresh roots or dry ground powder.
It contains two substances such as shogaols and gingerols that have health benefits. These compounds have antimicrobial, anti-inflammatory, antioxidant, and antiallergic effects on the body. Fresh ginger contains higher levels of gingerols, while dried ginger has less amount of it. Also, dry ones contain higher amounts of shogaol.
Nutritional Profile of Ginger:
1.07 g of carbohydrate
0.12 g of dietary fiber
0.11 g of protein
0.05 g fat
0.1 g of sugar
4kcal of calorie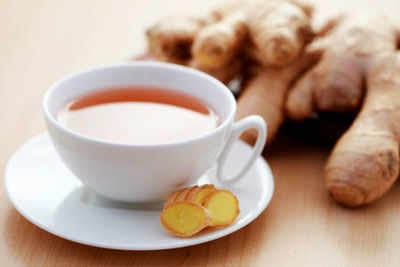 Photo Credit:  IndiaTimes
Proven health benefits of drinking ginger tea:
Relieves sore throats and colds
Taking ginger may help to prevent common colds, relieve sore throat and ease congestion. Ginger is effective against some of the bacteria that cause sore throat and cold.
Prevents bloating and flatulence
Ginger tea has beneficial effects on the digestive system. It decreases the pressure on the esophagus, prevents flatulence, reduces bloating and abdominal cramps.
Relieves nausea and vomiting
No wonder, pregnant women are encouraged to take ginger tea when they're experiencing morning sickness. Ginger helps relieve nausea and vomiting that results from pregnancy and other ailments.
Reduces Inflammation
Ginger reduces swelling, pain, and disability in people with osteoarthritis of the knee. The anti-inflammatory properties may be beneficial for osteoarthritis and rheumatoid arthritis.
Improves blood flow
The essential nutrients in ginger tea can help restore and improve blood flow in the body. This decreases the chance of cardiovascular problems. Ginger may prevent fat deposition in the walls of arteries helping to prevent heart attacks and stroke.
Content created and supplied by: DrGeraldine (via Opera News )