As part of efforts to curtail the COVID-19 pandemic, Governor of Edo State Godwin Obaseki has restricted mass gatherings across the state.
The Governor made this known during the event held at the Government House in Benin City, while flagging off the second phase of the COVID-19 vaccination exercise. 
He said starting from September 2021, large gatherings, as well as high traffic public and private places will only be accessed by persons who have proof of taking at least one dose of COVID-19 vaccination. People who have not yet been vaccinated at all will depend on remote access to these gatherings. 
In Edo State now, only those with the vaccination cards or proofs of having taken, at least, their first jabs of the Covid-19 vaccines, would be granted access to public places, including banks, worship places and other large gatherings.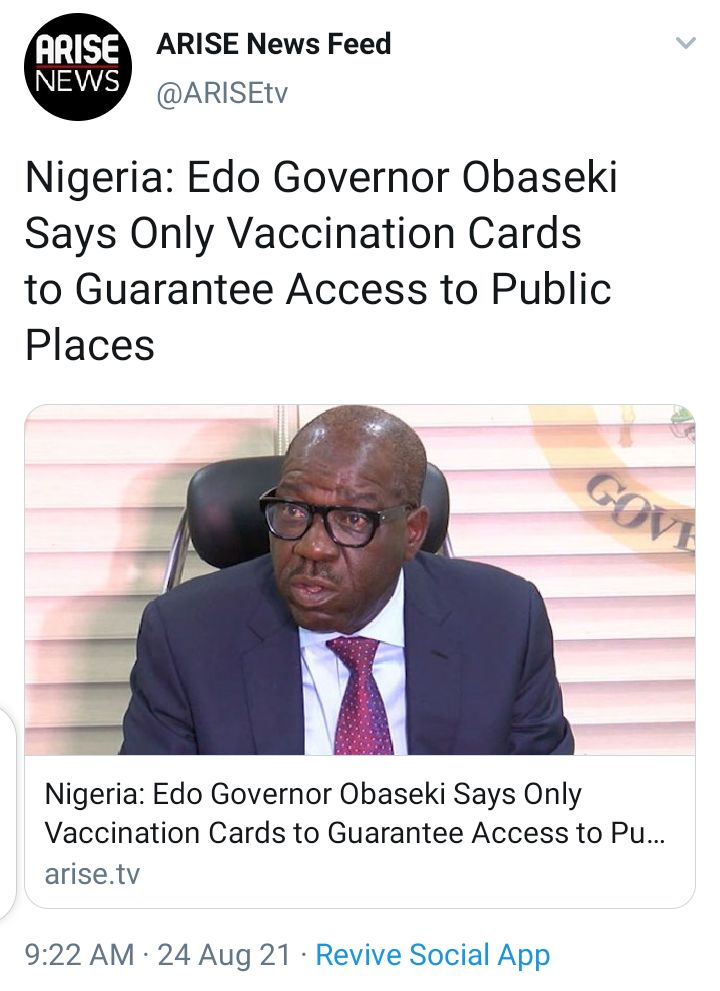 Photo Credit: Governor Obaseki
However, in my own considered opinion, Governor Obaseki should have done these two things before restricting mass gathering in Edo State…
1. Governor Obaseki's decision to protect public health during a pandemic as the Chief Security Officer of the state, is commendable but the only issue I have with his speech is the timing of this announcement.
A policy or guidelines that would prevent people from accessing basic services should be well thought out, and government should spend more time persuading people instead of bullying them especially at the start of a pandemic.
2. We are currently battling some diseases that got to a pandemic level at one point and COVID is not up to two years with some people still trying to understand what the disease is all about especially rural dwellers. Therefore, cutting them off essential services right now is unacceptable.
Again until the country has enough vaccines to go round, no government has the right to put such policy in place. 
Even with the availability of vaccines, the Edo government should give time for everyone to be vaccinated and yes, people's fear should be put into consideration.
Edo State government should make vaccines available and also, the government should invent ways/means to educate people against the bizarre conspiracy theories flying about against vaccines.
Content created and supplied by: KayWealth (via Opera News )