Meet Mr & Mrs Olayinka, a couple who have stayed married for 53 years and still counting despite all challenges and hurdles associated with marriage.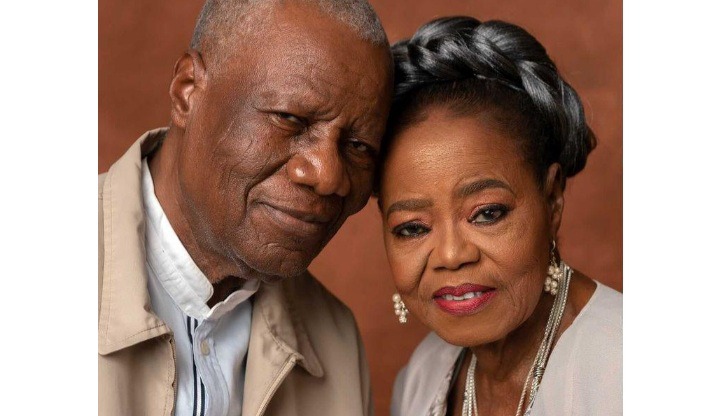 The story you are about to read is not your typical new generation love story but, that which transcends from over two generations ago till this present day.
Mrs Olayinka takes us on a journey that began so many years ago:
My husband was a banker where I used to save my money. On a particular day I visited the Bank, he tried to engage me in a conversation, asking if I'm related to my brother whom he had mentioned his name, but I told him "no". He then pressed forward by mentioning my Dad's name, telling me I look like $$ but I told him that, I wasn't related to him and I don't know him.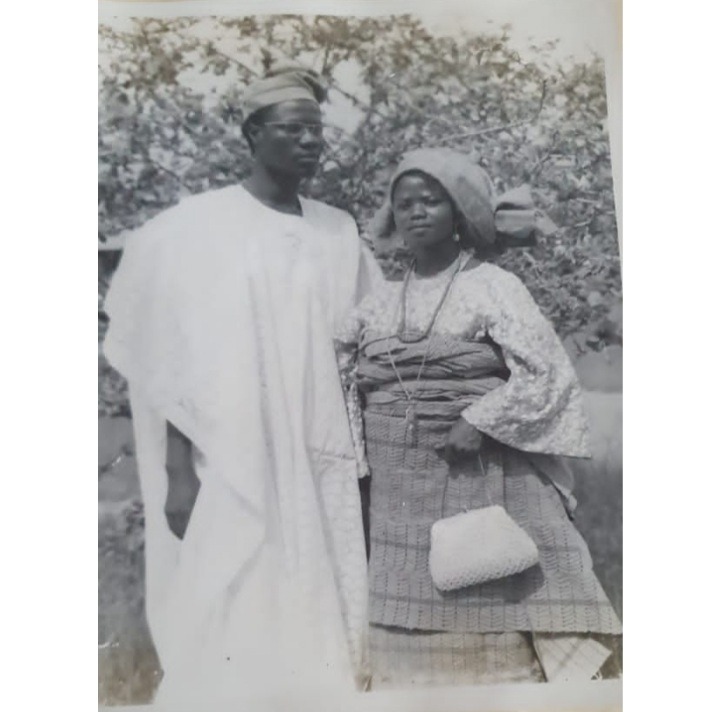 After I had finished my transactions and left, he followed me and kept pressing but I insisted.
On a fateful day, I was surprised to find the same Banker with my brother in our house, I couldn't fantom how they knew each other. The fact remained I was not interested in him still.
There was a time my brother came to Iwo for something so, he asked me to meet him up at a particular place. Little did I know it was the Banker's house my brother had invited me to. After that visit, the Banker was transferred the following day to Zaria and I felt that was the end.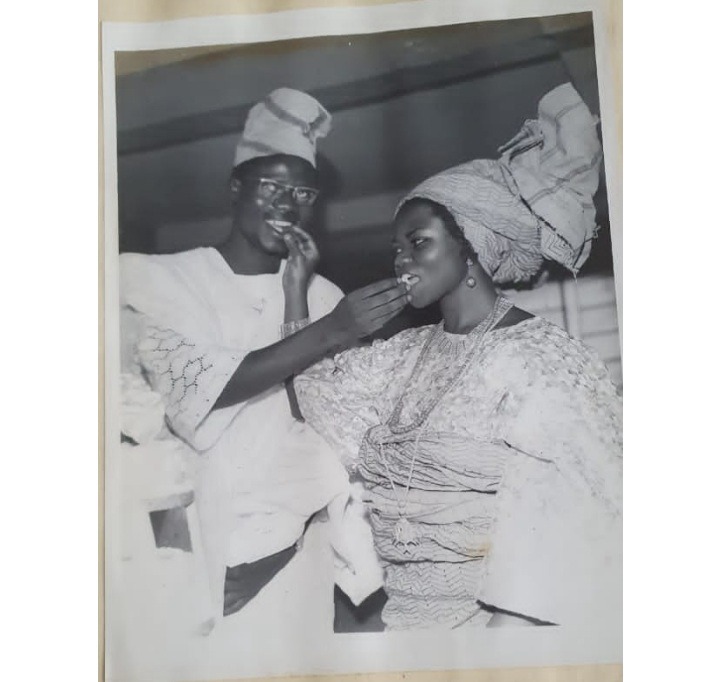 (Feeding each other cake during our wedding reception)
His younger sister was in Primary 3 at the time and there was a debate about who would cater for her as he left town and I offered to care for her in my house. During that time, their mum kept telling me that her son was pressuring her to come to meet with my family.
His brothers and I had attended the same school so, the families connecting was much easier than it could get.
But then, Mr Olayinka was set out to pursue me at all cost and he kept shooting his shot until I gave in, when I saw how desperate he was to make me his wife.
After all the 'gra-gra' from me, I agreed to marry him in 1968 and here we are, 53 years after with 5 children and many grandchildren. There were several storms in our marriage which were normal, we still managed to have a smooth sail through it all.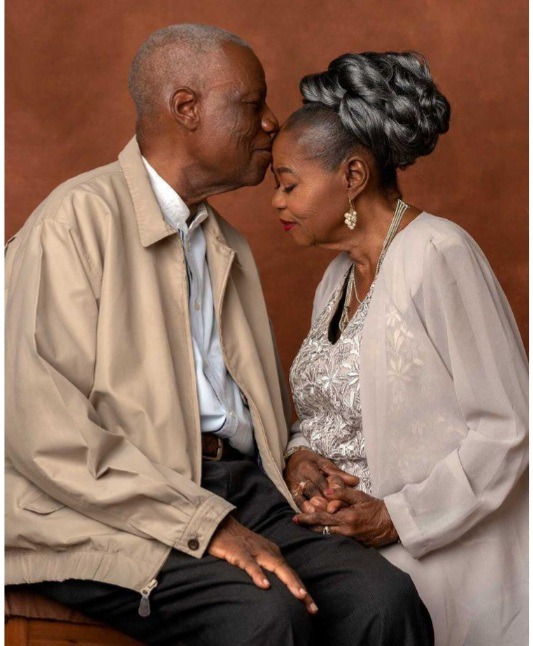 "The first few years of marriage are tumultuous and often especially in the present, many just give up and stop sailing and allow their ship to sink. But, staying married for 53 years, we consciously pressed the right bottons and correctly too, it certainly wasn't easy but it's possible and you can too." Mrs Olayinka advised.
As a woman, once you get into the home of your husband as a newlywed, you will begin to see so many things that aren't right, and times you will start having regrets about why you went to into that marriage. Most of those times, I would run to my elder sister and complain, and one day, she called me and said "look, I don't tell anyone what goes on in my marriage, why are you always running to me for yours?"
Every marriage requires a lot of tolerance, you can't always win all the time, you have to learn to lose sometimes. Problems will always come, but both parties must learn to figure a way out and forge on. And it is very important to make God, the centre of your marriage.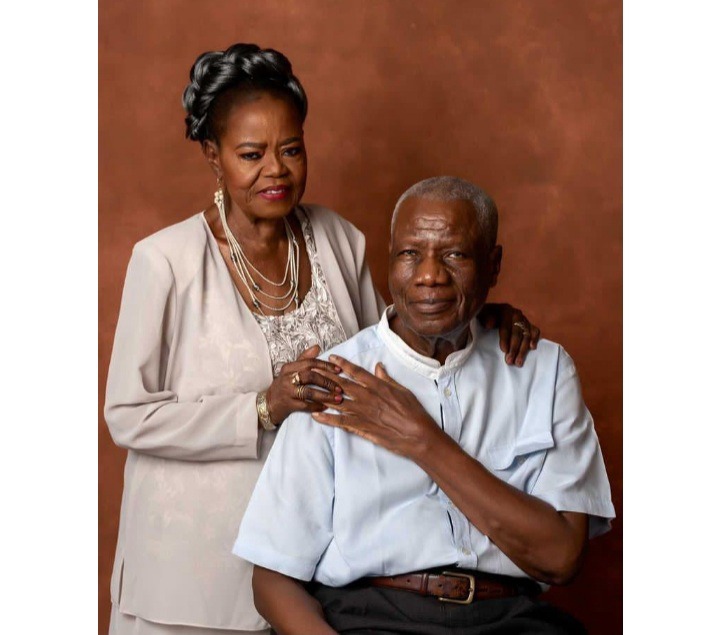 I grew up, watching my mum care mostly for my dad, she was the 3rd wife but she did the most and that earned her the favourite wife. Sometimes, my husband will hand me an envelope of money, I will turn it down because I had a good job and had my own money. But initially, he didnt wants me to work, he wanted me to stay home and take care of the kids.
Look, I tell every young woman, never succumb to pressure to stay home and be a full-time wife, get a job. It is important to help your husband financially, even when he doesn't appreciate it at times. When it comes to cooking for the home, I will collect money from him but when it comes to executing projects, I will lend him money but must ensure he refunds me back.
I cover him during times of financial difficulty and what I love most about my husband is that he can spend his last penny on our children. He almost spoilt them, there were times he will ask them to leave me in the kitchen and come watch TV with him, I would as well leave the kitchen and join them, lets all watch TV and not eat. I thought even my boys how to cook, they must not depend on a woman for all the cooking. I owned my territory and was in charge of my home.
A lot of men will always be involved in another woman. As a banker, my husband had money at his disposal, that part never really posed a problem for us as a family, there was a greater test than finances. He didn't know how to really draw the line with women who were flirting with him. But trust me, I owned my territory 100%.
If it requires me going to look for the woman, and put her in her place, I do just that, sometimes I don't even let them know I am his wife. It got to a point a particular woman kept calling to invite him for dinner. I'd tell her that we have dinner in our house and he is staying home.
Communication, owning up to your sins, forgiveness and prayer was the key components to our successful marriage. When there is a problem, don't give up, seek the face of God and hang in there, He will show up for you.
Source/Images credit: Bellanaijaweddings.com
Content created and supplied by: JoyObidike'sBlog (via Opera News )